Celluloide : Naive heart - anniversary edition now available!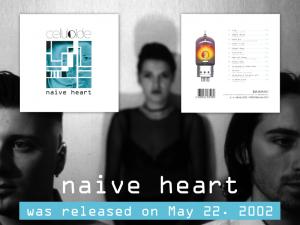 Naive Heart is Celluloide's debut studio album and it was released exactly 20 years ago today !
Forged in a melodious and nostalgic unusual and unique electronic pop, Naive Heart marks the promising start of Celluloide's discography that will eventually reach 7 albums, 3 E.P. and many singles...
We decided to celebrate this very special anniversary with a set of exclusive forthcoming releases (available in September 2022) which include a 12" LP vinyl re-issue, the 2002 bonus experimental CD album re-release and a completely unreleased EP of versions re-recorded in 2003.
Order now :
more info...
[25/10/2022 | 08h18 ]
Celluloide : Naive heart experimental version will be re-released - reserve your copy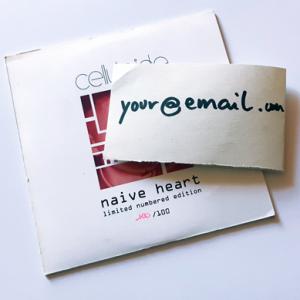 For those lucky ones of you who still happen to own the original ESP CD-R album, here's a little treat :
If you want to secure a new 2022 remastered ESP CD at a special price and keep the same item number as the original you received 20 years ago, here's what you need to do :
Please take a picture of your original CD-R copy where we can see the number (/100) and your email address as shown on the picture below:
and send it to : info[@]boredomproduct.fr
Once we receive it, we will get in touch with you and will arrange it all so that you can pre-order the new 2022 remastered ESP CD album at special price...
[10/05/2022 | 09h54 ]