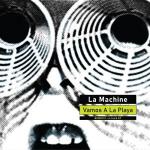 Enriched with Uranium, La Machine is back with a new 6-track atomic EP!

The first single to be released is a minimalist and mechanical cover of Righeira's Vamos A La Playa, to which La Machine gives all its meaning again without changing a single word in the original lyrics.

A summer hit which made the whole mankind dance to the blast of a nuclear explosion: that was all it took for La Machine to take control and give back its original intention, making the Geiger counters panic in the process.

The second track, Reactor 4, brings together a budding romance at the core of the most famous atomic power plant just before the catastrophe: hearts merge and stories collide. With La Machine, the worst is certainly to come.

As with the previous EP, La Machine also offers its own interpretation of a key track in the electronic music History, with an irradiated cover of Jacno's Rectangle.

A new shot of vintage analog thrills with the most horrifying nuclear nightmare:

La Machine is back!