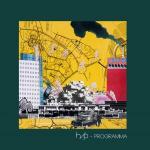 It seems that nothing happens normally in COVID-times....

We sadly have no choice but to let you know that the release of the new 'Programma' album by h/p has to be pushed back to a yet unknown release date, for reasons that are beyond our control.

We have had some issues with our supplier and we are not able to keep up with the initial planned release date (26th of November) for the time being...

Unfortunately, we donít have more details to share with you just yet, but we'll just keep our fingers crossed that you will have the record in your hands in December.

We will let you know once we have a new release date to share with you all. Pre-orders are still accepted though, and we will send your copies as soon as possible.