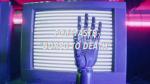 When you thought you had just reach the End, and an happy one this time around. Well, just not yet... not quite.

Today, Foretaste unveils the video to their instrumental track Bored to Death which is available below.

This is the third music video from their acclaimed latest album Happy End!