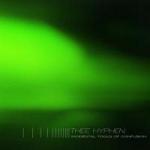 "Incidental Tool of Confusion", the debut album by THEE HYPHEN has just benefited from a complete restoration work from the original 4-track analog tapes: the sound has been cleaned up and remastered, the vocals got rid of the original effects to gain more clarity.

And as chance did a really good job recently : not only did it help to find the original recordings of "Incidental Tool of Confusion" but it also gave a second chance to those of its follower: "Re.Sound".

You can pre-order both albums right now at a very special price!