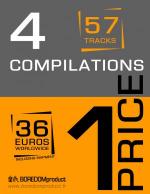 Very weird times may lead to very special treats. And you're all in for one special offer with the following package:

The label's 4 compilation CD set will be available at the very special price of 36 Euros including shipment worldwide. Yes, that's right : you can get the 57 tracks spread on our four compilation CDs for 36 euros with no extra charge wherever you live on the planet.

Including tracks by The Rorschach Garden, Dekad, Komputer, Celluloide, Sista Mannen Pa Jorden, Foretaste, Psyche, Neutral Lies, Joy Electric, Thee Hyphen, File Not Found, TourdeForce, Makina Girgir, Happiness Project, Opéra Multi Steel, Cyborgdrive and many more...