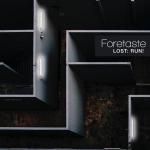 The wait is over : Foretaste is back with "Lost: Run!", a brand new EP which is another step forward in the band's way of crafting their songs with subtle production, this time around with a blend of harder sounds mixed with even more complex rhythm patterns that perfectly fit the duo's trademark electronic and catchy pop songs.

On this digital only 4-track EP which will be made available on the 18th of December, will feature the exclusive track "Here" along with single versions of "Run" and "Lost For Seven Years", both songs off the forthcoming album "Happy End!", as well as a remixed version of "Dead Star" which will also appear as another incarnation on the new album.

Pre-orders for the band's new album, "Happy End!", due for January 29. 2021 are open now!