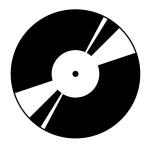 Good news! The French post office has decided to lower its prices for certain categories of items for oustide EU.
So, we immediately apply a new shipping rate for our LP vinyl albums.

Of course, this is valid for the limited editions, like "Broken Memory vintage pack", our tribute to Martin Dupont, or Celluloide's latest album "Futur Antérieur ", including the EP "Modulation de Fréquence", and all albums of our productionB sub-label like "Télévision 1945 vol I" from Novocibirsk or "Hyperborée" from Signal~Bruit ...

It starts now, so do not wait any longer, because our stock of 12" LP vinyls is limited.