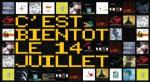 on French national day , all our CD albums are available at €9.99* !
Following our well-established tradition, we cut the head off prices
for all our albums and tributes on Bastille Day.

A good opportunity to fill the gaps in your collection!



*for France and Europe (E.U.) and €14.99 outside E.U.