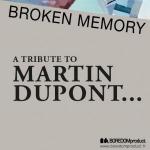 After "Pistes Noires (de préférence)", we swore that we would never make another tribute compilation...

But yet there was still a legendary group that is also close to our hearts. Who better than BOREDOMproduct could pay tribute to this hidden treasure of french electronic music?

Our tribute to pioneer electronic band from Marseille Martin Dupont is coming soon, and it already has a name: Broken Memory. Very special and collector's editions will soon be available for preorder! Be ready!